London Design Festival 2017: Villa Walala by Camille Walala
Home
/ London Design Festival 2017: Villa Walala by Camille Walala
Investigate a scope of inventive establishments and occasions commending contemporary outline amid the London Design Festival 2017 (LDF).
The yearly celebration has been exhibiting crafted by originators, draftsmen, specialists and retailers since 2003. Amid the celebration, several vast scale establishments, presentations and occasions fly up in numerous novel spaces crosswise over London, from world-well known exhibition halls to little nearby studios.
The V&A is indeed the center point of the London Design Festival, facilitating an extensive variety of exercises, from talks and workshops, to establishments and presentations.
The London Design Festival traverses many areas, highlights huge amounts of occasions, incorporates several displays and has one clear mission: to demonstrate that our city is the capital of plan. This year is its fifteenth yearly festival and the larger part of occasions happen from September 16-24 2017. It's the ideal opportunity to investigate art and outline taking care of business. Yet, with some powerful London historical centers at its steerage, eight 'Outline Districts' and five 'Plan Destinations' crosswise over town, where do you begin? We've picked the features beneath so you can plan your optimal visit to London Design Festival 2017.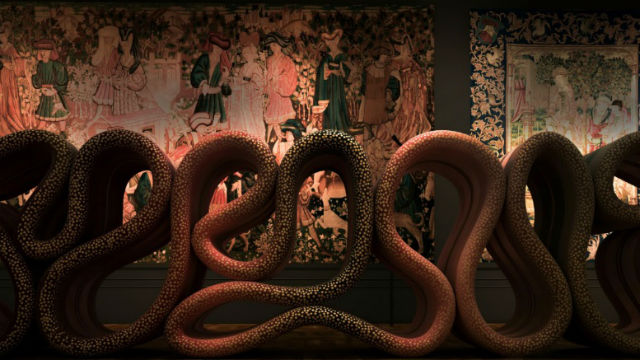 London Design Festival 2017 highlights
Investigate a development of energetic hued shapes lighting up the workplace structures of Broadgate, as visual craftsman Camille Walala conveys a play area of hues to the City of London with Villa Walala. 16-24 Sep 2k17
Walk the length of the 21.3m three-dimensional woven artwork Tansmission, by British fashioner Ross Lovegrove, set against the fifteenth century chasing embroidered works of art that motivated the commission in the V&A's Room 94. 16-24 Sep 2017
Start your creative ability with the Design Frontiers assemble presentation at Somerset House, exhibiting forefront plans in vehicle, form, illustrations and that's only the tip of the iceberg, which came about because of coordinated efforts between driving architects and their edified customers. 18-24 Sep
Drench yourself in the While We Wait stone structure by Palestinian engineers Elias and Yousef Anastas, who took motivation from the picturesque Cremisan Valley, in the V&A's Gallery 64B.